Our Click-On® docking system is widely used by all UK emergency services, security professionals and in industrial and commercial settings, to securely attach portable devices to a uniform. The system comprises a dock which is usually sewn onto a uniform or attached to a belt, harness, holster or clothing, and a docking stud which is attached to the device.  When the dock and stud come together they are securely attached, however the system allows for quick, reliable release with a simple rotation of the device, as shown. Fully Klick Fast compatible.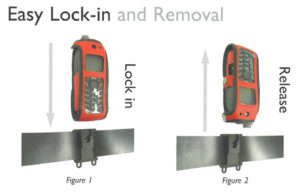 We offer a wide range of docking solutions in robust nylon or metal options. Including intrinsically-safe options.
Where the docking system is unsuitable, we also offer other attachment options including strong metal belts clips or leather/webbing belt loops. Including intrinsically-safe options.
Devices commonly carried using our Click-On® system include: Two-way Radios, TETRA Radios & Pagers, Digital Pagers, Digital & Analogue Radios & Walkie-Talkies, iPad & Tablet devices, Barcode Scanners, Handcuffs & Batons, Bodycams and more.  
Click-On® Docks for Uniform & Workwear
Industrial and large scale uniform manufacturers may contact us for information regarding Click-On® docks suitable for sewing onto jackets, trousers, gilets etc. All our Click-On® mounting system products are fully compatible with Klick Fast. Click here for our Sew-On Click-On® Dock. Contact us directly for large scale orders on 01278 723360 or email [email protected].