Our Click-On® docking system is widely used by all UK emergency services, security professionals and in industrial and commercial settings to securely attach portable devices to a uniform. The system comprises a dock which is usually sewn onto a uniform or attached to a belt, harness, holster or clothing, and a docking stud which is attached to the device.  When the dock and stud come together they are securely attached, however the system allows for quick, reliable release with a simple rotation of the device, as shown. Fully Klick Fast compatible.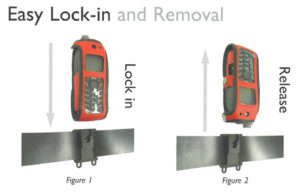 We offer a wide range of docking solutions in robust nylon or metal options. 
Where the docking system is unsuitable, we also offer other attachment options including strong metal belts clips or leather/webbing belt loops.